Farm Raised to Farm Brewed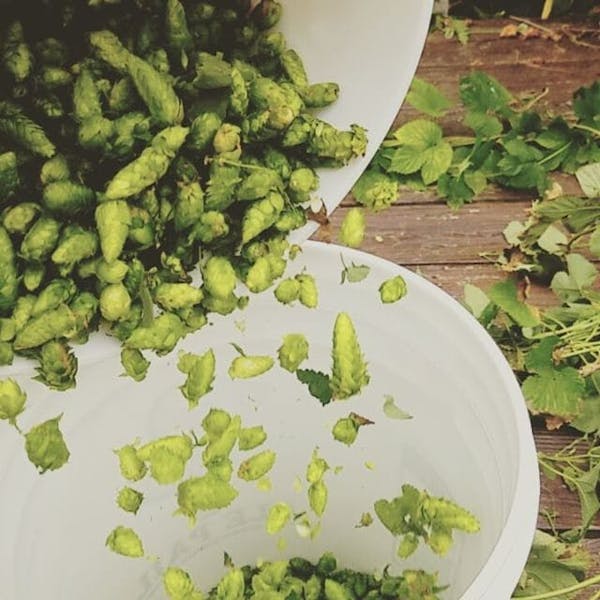 Lithology Brewing Co. is a proudly licensed New York State Farm Brewery. As a Farm Brewery, Lithology Brewing sources many of our ingredients from local NYS farms. Currently, up to 20% of our beer must be made with NYS ingredients. Lithology Brewing has also produced beers made from 100% NYS ingredients, like the Ready to Mingle S.M.A.S.H. with Chinook hops.
In fact, Lithology Brewing is so psyched about local ingredients, we harvested and cultivated a Long Island wild yeast to brew with! The NY Renegade is Lithology Brewing's first brew with 100% local ingredients AND our Long Island Ale yeast. The NY Renegade Release Party is September 22 at our tasting room, and you don't want to miss this!
Although we are excited about the Long Island Ale yeast, we really couldn't do our job (brew beer for you!) without partnering with some fantastic farms.
One of our longest farm partnerships has been with Crossroads Farm at Grossmann's in Malvern, NY. Crossroads Farm is a certified organic, 5-acre vegetable farm that grows and sells their produce on site, and hosts a variety of family friendly events throughout the year.
Crossroads Farm has provided Lithology Brewing with fresh herbs, honey, squash, and other ingredients for many of our brews. Our L.B.'s Knees is brewed with rosemary, thyme, and honey and the White (Witbier) has additions of chamomile from Crossroads. This summer, Crossroads Farm and Lithology Brewing planted a variety of hops on the farm that will be used in future beers.
Some of Crossroads Farm events, like the Craft Beer & Arts Festival on September 23 from 1-6pm, include Lithology Brewing pouring beer. So, we get the ingredients from the farm, brew it at our farm brewery, and bring it back to the farm for everyone to enjoy! Pretty darn cool.
For more information on upcoming events at Crossroads Farm, go here.
We are happy to work with farms across the state to source the malt, grains, and hops for Lithology Brewing's beer. Here's just a few farms we work with to highlight how craft brewing and NYS farm brewery licensing supports the local economy.
Hop Brothers (hops) - Germantown, NY
Foothills Hops Farm and Brewery (hops) - Munnsville, NY
Pedersen Farms (hops) – Seneca Castle, NY
Pioneer Malting (malt) – Rochester, NY
Restoration Farm (our spent grain used as chicken feed) - Bethpage, NY