Summertime Brews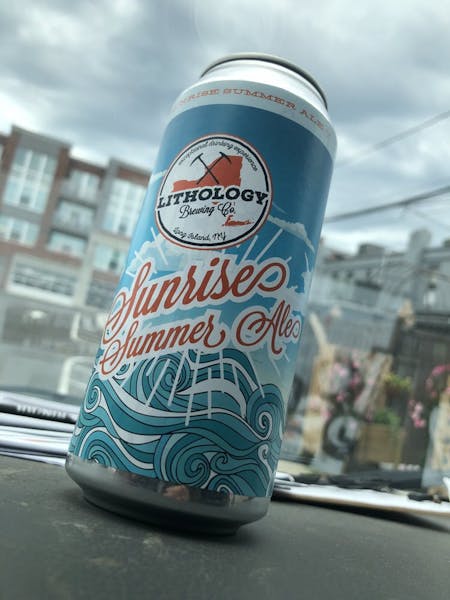 What pairs better with the summer than a good seasonal beer? Lithology Brewing Co. is excited to share our seasonal brews with you at our tasting room, local bars and restaurants, venues, and anywhere your summer fun plans take you.
Our summer beers are curated to be refreshing on a hot sunny day, and are inspired by the season. We have added wheat, fruit, and herbs that are fresh to our brews that complement the summertime.
Sunrise Summer Ale 5.5% ABV This wheat-blonde hybrid brewed with Hull Melon hops, citrus zest, and coriander is a summertime favorite. And it comes in cans! Besides the tasting room, you can find Sunrise Summer Ale at Jones Beach concessions, Nassau Coliseum, and the Long Beach, Huntington, and Melville farmer's markets.
Magothy Mango Wheat 4.6% ABV The mango addition to our wheat ale was such a crowd-pleaser that we've added it into our regular rotation of brews for the summer! Magothy is named after the Long Island aquifer, and you can learn more about the lithology and geology of Long Island in our first blog post.
TMP Cream Ale 5.2% ABV Light and refreshing! The TMP Cream Ale can be found in rotation at our tasting room, and always available at That Meetball Place in Patchogue and Farmingdale (across from the Lithology tasting room).
Watermelon Blonde 5% ABV Find this refreshing brew in rotation at our tasting room, at Brewology in Port Jefferson and Speonk, and at the Pennysaver Amphitheater all summer long!
Washington's Farmhouse 6.9% ABV If you like tart and crisp saison-farmhouse style ales and hoppy beers, this one is for you! The complex flavors in this beer will have you ordering another one.
L.Bee's Knees 6.5% ABV We brew this rye ale with rosemary, sage, and wild honey harvested from Crossroads Farm in Malverne. It's best enjoyed while relaxing in a hammock in a garden (or at the tasting room).
Dro-Gose 3.9% ABV Lithology Brewing partnered with Brickhouse Brewery and brewed our first ever gose styled beer! It's brewed with dragon fruit, pomegranate, and sea salt. It's tart and delicious, and we like to think it would make the Mother of Dragons proud.